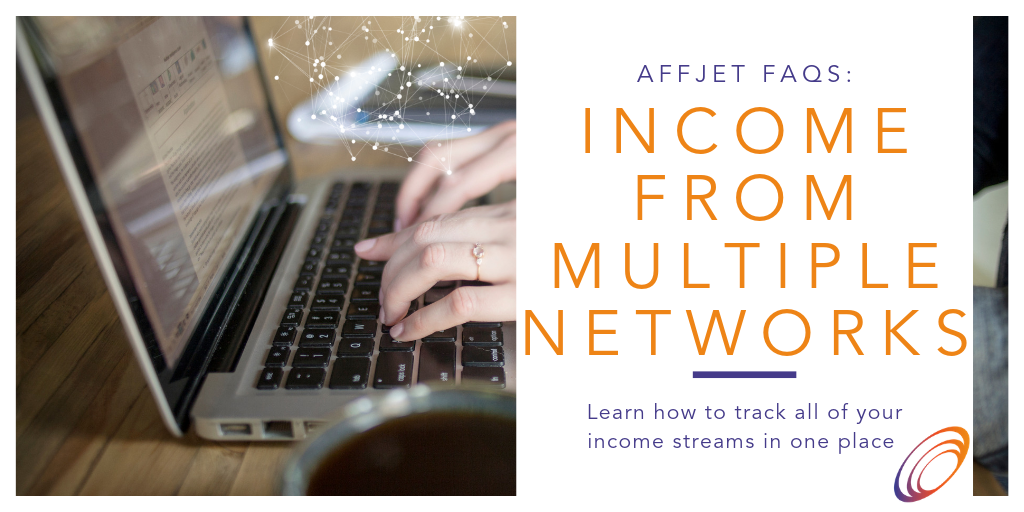 If you work with affiliates you will be used to the fact that there are hundreds and thousands of networks out there and if you want to be offering a wide range of products or services, it's unavoidable that you will end up working with many of them! Tracking sales, keeping on top of performance, these tasks all become much more complex when you are dealing with lots and lots of different affiliate networks.
You might decide to compromise and solve this by keeping the number of networks you work with to a minimum – after all, logging into AWIN, Commission Junction, Amazon and Tradedoubler as a minimum every day just to keep track of your income is already taking enough of your time as it is. Or, you might have the assistance of a fancy spreadsheet that does at least some of the work for you – however, none of these solutions are ideal.
To expand and grow you should be able to work with as many affiliate networks as you like to ensure you are providing the best products to your customers and website visitors, and also getting the most out of the affiliate programs available. Your time should be spent optimising your website and increasing sales, not spending hours on admin!
How do I track affiliate income and sales from multiple affiliate networks?
Logging into all the different portals, downloading data to input into spreadsheets, comparing and adding up figures… it's time-consuming, it's boring and it's just not efficient. Eight years ago we came up against this very same problem and wanted a solution, and so our own affiliate marketing income management dashboard was born. It's revolutionised the way we work, and we sure it'll do the same for you!
Here's how you can start seeing all your affiliate income reports in one place, saving you time every single day:
If you haven't checked AffJet out yet, sign up for your free account here.
Enter all your details of your business or website.
Start adding your networks to your account. You'll need some information like your login credentials. There's no limit to how many you can add.
Your data from all your networks will start to import. You can even import historic transactions so you can compare previous data!
If we don't currently list a network you work with, just contact us and we should be able to add it for you.
Set up reports that you'll use frequently to track your affiliate income.
Start spending the time you're going to save on your reporting doing more fun things!
How can I track my total income from affiliate marketing? What's the affiliate management dashboard?
Sometimes you just want to quickly see how well your website or business is doing, and when you've got multiple sources of income, this isn't usually an easy task. However, once you've got all your data arriving into AffJet, this becomes a breeze!
With AffJet you can see your overall earnings and important figures the moment you log in by taking a look at the main dashboard. This is very useful for just finding out at a glance statistics – including recent trends. Take a look at our guide for a more in depth look at our affiliate income dashboard to see just how simple to use it is!
How can I better track my affiliate marketing performance?
Seeing your overall figures is great, and really useful if you just need a quick snapshot of your account, but sometimes you really want to get into the nitty gritty of your affiliate earnings. This is the main reason why you want to track your income from multiple networks, right? Enter the AffJet reporting section!
These reports enable you to create custom reports that are unique to you and your needs. Merchants from different networks in one report? No problem. Custom date range? No problem.
You can make these reports as large as you want (we've got a few monster ones ourselves!) or as small as you want if there are just a couple of merchants you are wanting to track. Or, if you suspect there's a problem with a merchant or network, you can specify just those individual ones if you want to look for any worrying trends. Likewise, perhaps they are performing super well and you want to focus on them a bit more!
Once your report is created you can check out commission rates, earnings, total value of sales and all the metrics that will help you see how the product or program is performing for your business. We created a step by step guide on creating reports, so if you want more info on this process you can give that a read.
Sounds great – Is there a way I can see how AffJet works before signing up?
Yes! You can take a look at our demo account. Here you can see the affiliate income dashboard and run some reports using "dummy" data. If you'd rather get stuck in and start playing your own affiliate data, sign up for your free trial here. You can cancel at anytime, and the free trial will allow you the flexibility to use your own data to see how tracking your income across all your affiliate networks can really change up the way you report and monitor your affiliate earnings!
But isn't it expensive?
We've got plans for everyone – our free plan is suited to those with a smaller number of transactions each month, and it'll always remain free if you stay around this level. If you grow or are expanding, we've got some affordable plans to make sure you're seeing all your data. Those with large volumes of transactions, it's best to contact us for a quote that is bespoke to your business needs!
Hopefully we've helped you to see just how easy it could be to keep on top of your income, allowing you to focus on the fun bit of affiliate marketing – creating content, exploring new partnerships and optimising your site to earn more money!
Any questions? We're a friendly bunch, so feel free to get in contact! You can find us on LiveChat by just clicking the orange speech bubble in the bottom right of your screen, pop us an email, or grab us on social media on Facebook, Twitter and Instagram!