The end of the year is always a busy one in the Affiliate Marketing industry with Black Friday, Cyber Monday, and Christmas all providing opportunities to drive online sales. In recent years we've seen Black Friday sales hugely take off and this year AWIN reported a 24% commission increase YoY (AWIN, Black Friday 2019 report).
Getting your reporting quickly and easily over this intense period is absolutely critical for making the right decisions. Here at AffJet we ensured that we had enough resources to cope with the increased demand! We dug out some interesting statistics to see just how busy the weekend was.
What was happening over the Black Friday weekend?
We saw a 90% increase in sessions on the AffJet platform.
Our users spent 50% longer onsite than normal.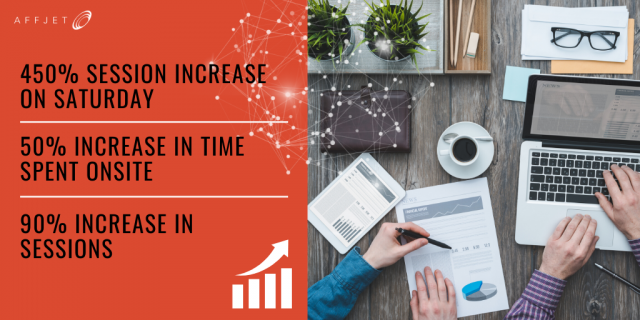 On the Saturday of the Black Friday weekend we had a 450% increase in sessions when compared to the Saturday the week before. This suggests that our customers were hard at work checking their Black Friday results and monitoring ongoing campaigns even on a weekend. This figure was still high on Sunday but Saturday was definitely the stand-out day for out of hours working!
We saw a stonking 180% increase in sessions from mobile devices suggesting more people were reporting on the go. So not only did we see an increase in out-of-hours working, more people were keeping tabs on things out of the office.
So, how did AffJet perform?
On average we saw a 255% increase in CPU usage during peak times when compared to our "normal" peak times. The user woudn't have seen any differences in their reporting, but AffJet was working hard behind the scenes to keep up with demand!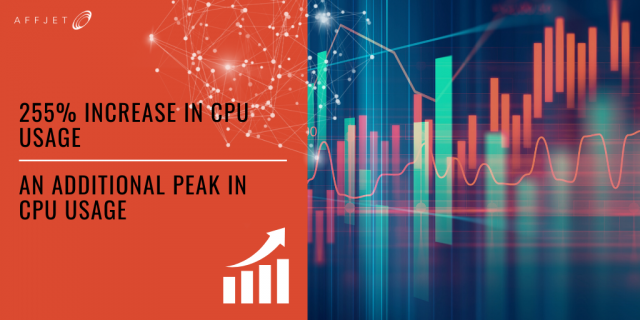 AffJet saw an additional, later, peak in CPU usage at almost double the "normal" peak from the week before on Black Friday itself. This means that our customers were not only reporting for longer, they were reporting more often than usual.
How were those Black Friday Affiliate Marketing campaigns?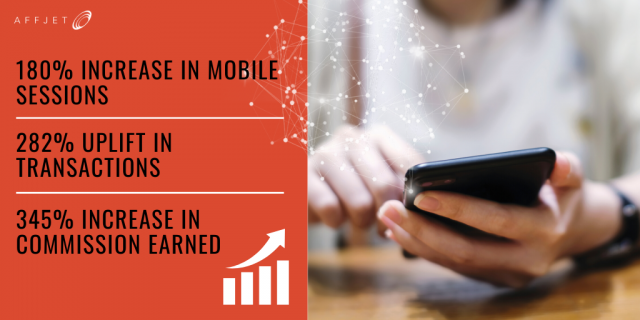 AffJet users saw on average a 282% uplift in transactions and a 345% increase in commission when compared to a "normal" long weekend. We think this is a pretty good result for those Black Friday affiliate marketing campaigns!
How was your Black Friday? Are you already planning your campaigns for 2021? As always, AffJet is ready and waiting to help you out by simplifying your reporting.