Anyone who tells you affiliate marketing is easy probably isn't an affiliate marketer.
But even if you know this to be true, you might still be taken aback as we reveal the true impact stress is having on affiliate marketers in general.
We've just wrapped up a survey of 87 Affiliate Marketers, asking for no-holds-barred accounts of what the role is really like.
The answers didn't let us down.
One of the standout results proved that soaring stress levels are pushing more affiliate marketers to breaking point than you might think.
When asked if they'd ever considered changing career paths due to work-related stress, a huge 41% said yes.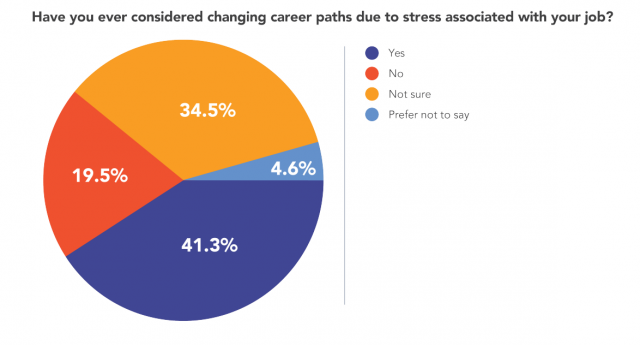 As you can see, while some haven't shared in that experience – a decent number say they aren't sure. This suggests the actual number of affiliate marketers significantly affected by stress could quite easily be over half.
And that was just the beginning of what we uncovered.
Ready to find out what else affiliate marketers confessed?
Get instant access to the results in full. Just enter your email below and hit Download.
By submitting your email address you agree to receive marketing communications from AffJet. You can unsubscribe at any time and you can read our privacy policy here.
Don't forget, if you want to find out how much easier AffJet can make your affiliate income reporting, sign up for a free trial to get started.